4 Alternative Comedy Shows to Leave You ROFLYAO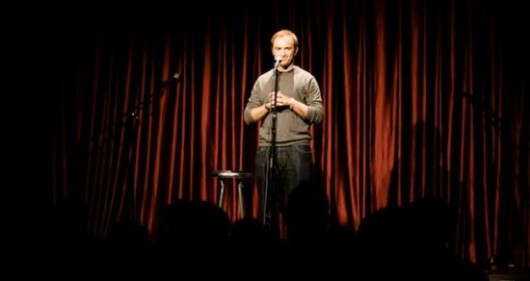 The abundance of incisive, talented, and original comedians in Los Angeles is one of our greatest resources. You can join the throng of tourists that flock to the traditional two-drink minimum clubs like the Comedy Store and Laugh Factory and usually get a few laughs; but if you really want to experience the best this city has to offer, it's the alternative comedy scene you'll want to explore. Consider easing your way into the scene with a polished set in a familiar format at Largo at the Coronet.
Another option is to just jump right in at Upright Citizens Brigade where you'll see famous names and LA comedy scene regulars trying out new bits at bargain prices. The best option if you're looking for a cheap and hassle-free way to experience comedy in a non-traditional venue is to check out one of the many regular shows put on by Angeleno's passionate about comedy. Here's a rundown of some of our favorites:
Power Violence presents Comedy Night is a stand up show hosted and produced by comedian Whitmer Thomas every Sunday in Hollywood. The show started as a place for Whitmer and his friends Rodney Berry, Clay Tatum, and Budd Diaz to work out unpolished material and screen shorts. It has since become a popular spot for comics from all across the success spectrum to perform.
What separates this show from others is its silly and energetic attitude. Power Violence embraces stupidity above all other types of comedy. Also, on occasion, the show's producers will force their friends to do stand up for the first time; often opening for established / well-known comedians. Cornell Reid, a PV favorite, often drops by to do a set. He drops by so often in fact that the show now has a segment called Cornell's Corner.
The show is held in a 42 seat black box theatre called the 6470 Theatre (which is part of the complex). It's completely free until Whitmer runs out of money, which should be sometime in September.
Some comedians who regularly perform and are scheduled to perform in the near future are: Heather Thomson / Paul Danke / Sean Patton / Eric Andre / Cornell Reid / Johnny Pemberton / Jonah Ray / Ed Salazar / Kumail Nanjiani / Brent Weinbach
Free & BYOB
Sundays at 9pm
6470 Theatre
6470 Santa Monica Blvd, Hollywood

On the first and third Tuesdays of each month, head down to the Downtown Independent Theater for a free and irreverent comedy show. You'll find a great mix of new faces and veterans of the LA alternative comedy scene. Started by comedian and storyteller Dave Ross (what better way to guarantee yourself a regular stand-up slot than to start your own comedy show?), you'll be hard pressed to find a more comfortable place to catch some comedy than at this independent movie theater.
The show has featured such comedians as: Louis CK / Ron Lynch / Maria Bamford / Jimmy Pardo / Aziz Ansari / Todd Glass / Sklar Brothers / Marc Maron / Nick Kroll / Eddie Pepitone / TJ Miller / Matt Braunger / Kyle Kinane
Free
First and Third Tuesdays of Each Month
Downtown Independent Theatre
251 South Main Street, Downtown

The Super Serious Show is less a comedy show, and more of a comedy event. Held monthly at Smashbox Studios in Culver City (home of celebrity photo and film shoots), show up early and enjoy a DJ spinning music and grub for sale from trendy food trucks. The real reason you'll want to get there early, however, is the FREE BEER! After you've been properly fed and socially lubricated, enjoy the comic musings from the always impressive lineup.
Past acts have included: Rob Delaney / Paul Scheer / Natasha Leggero / Daniel Tosh / Garfunkel & Oats / Jimmy Pardo / Sarah Silverman / Thomas Lennon / Dana Gould / Reggie Watts / Smashbox Studios /
Presale tickets $12 w/ service charge, or $15 cash at the door
Monthly…Check the Site for Upcoming dates
Smashbox Studios
8549 Higuera St, Culver City
This weekly comedy show is produced by Maria Bamford & Melinda Hill and booked by Jazz Ponce. With free admission and plentiful free parking, you are guaranteed to get your money's worth. In addition to regular sets by Maria Bamford and Melinda Hill, you'll get a parade of a dozen comedians every week.
Recent guests have included: Demetri Martin / Nick Kroll / Greg Proops / Brett Gelman / Andy Kindler / Anthony Jeselnik / Marc Maron / Walsh Brothers / Eddie Pepitone / Hannibal Buress / Nick Thune
Free
Mondays, 8pm
Hollywood Studio Bar & Grill
6122 Sunset Blvd

Other Articles You Might Be Interested In
About the author
Nick is a Los Angeles native on a personal mission to find the best Los Angeles has to offer. Know a guy who brews the best IPA in his garage? Have an inside scoop on an underground supper club? Discovered where LA City Councilmen hold the Fight Club they won't talk about? Nick's going to want to know about it.
nick-wilson
Share this post
Magazine Spotlight

Venice is a conundrum. It's all locals and all tourists. And perhaps that's the beauty of it—you'll always fit in. Right where the tattoos meet the sea is where you'll find Larry's—under the infamous Venice sign. We are so glad it's there, acting as a bridge between upscale and near and dear dives, Larry's is our new legit...

read more