An Evening at the Foundry on Melrose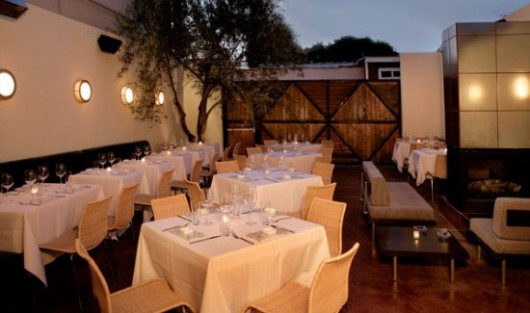 Few restaurants are as versatile as The Foundry on Melrose. Whatever kind of evening you desire, executive chef/owner Eric Greenspan can cater it.
Greenspan has exactly the kind of résumé aspiring chefs dream of…from washing dishes while attending UC Berkeley's Haas School of Business, to an apprenticeship at 3-star Michelin restaurant El Bulli in Spain, followed by two years as executive chef at Los Angeles's own Patina Restaurant before opening The Foundry. Oh, and he recently wiped the floor with Bobby Flay on Iron Chef America.
Before even looking at the Foundry menu, your first decision is where to sit. If you're on a date or looking for a relaxing evening with a touch of elegance, ask for a table under the covered patio. You can take a look at the extensive modern American menu, but you'd do just as well by ordering the Market Menu, which features three courses for $39/person.
If this is a special night or you really want to impress your date, Greenspan offers a tasting menu of five courses for $80, plus an extra $30 for the wine pairing. The current tasting menu features Greenspan's innovative takes on familiar dishes such as scallops (a ceviche version with blood orange, jalapeño, red onion, and garlic chips), lasagna (featuring sweetbread, gruyère, kale, plantains and bacon), New York Striploin, John Dory, and a double chocolate ice cream sandwich with chocolate sauce and marshmallow chocolate brûlée for dessert.
If live music, a couple of cocktails, and some elevated bar food sounds more your speed, you'll be right at home sitting in the Foundry lounge. On Mondays, the lounge features Latin Jazz, Latin-inspired cocktails, and $3 gorditas. Every Tuesday is "Bluesy Tuesdays", where you can munch on fried chicken, barbecued pork sandwiches, grits and greens while listening to live blues and roots music. Thursday means live Jazz and absinthe, and Sunday is "Suds and Songs Sundays" featuring singer/songwriter performances and a $2 featured beer. Wednesdays and Saturdays may lack a theme, but still feature live music and tasty bar bites. Popular picks are the burger served on Hawaiian bread (served with condiments that you add yourself) and his award winning grilled cheese sandwich of gooey teleggio with apricot-caper purée and short ribs served on raisin bread. Might as well indulge a bit and add an order of "Foundry Tots," a grown-up version of tater tots.
Of course, the most interesting seat in the house is a little section between the lounge area and the outdoor patio. If you like a little entertainment with your dinner, grab a booth by the open kitchen and see how the proverbial sausage gets made. You'll see Greenspan and the line cooks working feverishly to keep up with incoming orders, servers queuing impatiently to pick up their food and get it to their hungry diners, and if you're lucky, you'll hear some sharp words exchanged between Chef Greenspan and an anxious server. This is not your seat of choice if you are easily distracted and want to focus on your dining companions, but is a lot of fun for those of us that have always wondered what it would be like to work the line under a celebrated chef.
Whether you are looking for an evening of elegance and refinement, or a low-key night of drinks, music, and a burger, you'll find it all at the Foundry on Melrose. Wherever you choose to sit, make sure you order whatever soup is on the menu. What can I say, the man knows his soups.
The Foundry on Melrose
7465 Melrose Avenue
Los Angeles, CA 90046

Other Articles You Might Be Interested In
About the author
Nick is a Los Angeles native on a personal mission to find the best Los Angeles has to offer. Know a guy who brews the best IPA in his garage? Have an inside scoop on an underground supper club? Discovered where LA City Councilmen hold the Fight Club they won't talk about? Nick's going to want to know about it.
nick-wilson
Share this post
Magazine Spotlight

Venice is a conundrum. It's all locals and all tourists. And perhaps that's the beauty of it—you'll always fit in. Right where the tattoos meet the sea is where you'll find Larry's—under the infamous Venice sign. We are so glad it's there, acting as a bridge between upscale and near and dear dives, Larry's is our new legit...

read more