Guitar Center Sessions Take Blondie & Sum41 to Another Dimension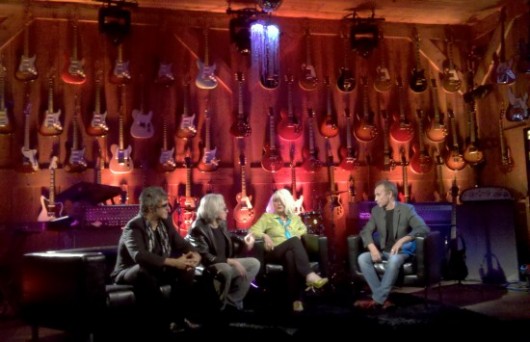 Einstein said "technological progress is like an axe in the hands of a pathological criminal."  I wonder if his opinion would have extended to 3D television.
Progress sure is somethin'.  And by that, I mean precisely 3D television, not forever calming the middle east conflicts or creating some anti-tsunami device.  Earlier this month, I was invited to Guitar Center in Hollywood to witness DirecTV's Guitar Center Sessions with Sum 41 and Blondie (both performing/interviewing to promote their new albums).  The program is filmed for both 2D and 3D viewing, albeit with an intent to promote consumption of 3D televisions (in conjunction with Panasonic).
Before we talk about the iconic Blondie reunion, let's examine the younger phenomenon of Canadia's Sum 41. Of course, these guys exploded onto the mainstream scene in the late 90s with "Fat Lip", followed by other hits "Motivation", "Makes No Difference", and "In Too Deep".  Their new album Screaming Bloody Murder seemingly returns to their Judas Priest influences moreso than the otherwise-comparable Green Day imprint.  Thus you wouldn't think that before a gig they'd be emptying a bottle of Jack to a mix of The Doors and Rolling Stones; but that's precisely how frontman Deryck Whibley, drummer Steve Jocz, bassist Jason "Cone" McCaslin, and lead guitarist Thom Thacker (who replaced Dave "Brownsound" Baksh) rev.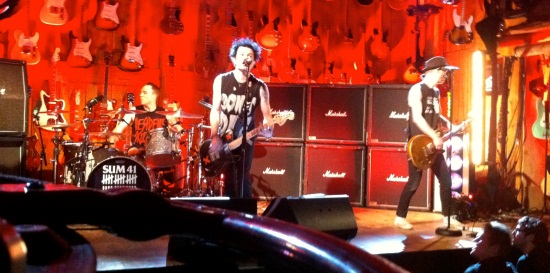 For the Guitar Center session, the boys played from albums Half Hour of Power, All Killer No Filler, Does This Look Infected, Underclass Hero, Chuck- alas, the track "Pain For Pleasure" was not served- but from their newest release, the tracks "Jessica Kill", "Screaming Bloody Murder", and "Skumfuk" (wow) were.  The lyrics to the foremost track make you seriously consider Whibley's sex life:
Self inflicted masochist
How could anyone resist
My last words are this begin
I want you…
Can't help it, so crazy
But I'm ok, just pain me
Take it very slow
Cause I'm in love tonight
…About as charming as the interview between struggling host Nic Harcourt and an inebriated frontman (having finished the whiskey, vodka was demanded in between takes) who shuffled towards the stage in a newsboy cap and sunglasses like a misanthropic Yoko Ono midget.  Don't get me wrong, the performance was fantastic (including an inadvertent instrumental jam that sounded eerily like Sabbath's "Crazy Train"), and looked AMAZING- I actually went back into the million-dollar DirecTV truck, where walls of giant flatscreens magnetically illuminated the revolutionary power of 3D television.
Regardless of the fact that it felt, to me, like a war bunker, with the director shouting in fury every other second for a shot change, the experience was mind-blowing to say the least.  The amount of money, including the $100,000+ guitars hanging on the back wall of the performance/interview stage, staggers this homely little freelance writer.  But that's entertainment.
Jump to a few days later when Blondie joined MTV's premiere music supervisor in residence (Harcourt) for a mercifully contrary parley.  Firstly, the NY band are helmed not by the spoiled-by-fame-at-16 Whibley but the still sublimely sexy at 60-something, Debbie Harry, who provided far more compelling back-and-forth than the guy who didn't know it was his 30th birthday until he got it tattoo'd on him.  Again, I reference Whibley and a wholly retarded anecdote (the only one he was amenable to share), and whose ex is currently tattooed on Brody Jenner, meaning Whibley's former wife Avril Lavigne, whose name is inked onto the wrist of Olympian Bruce Jenner's sub-adult spunk.  Confused?  It's just the culture-vomit brewing with the purpose of making a regretfully convoluted joke.  Don't blame me, blame E! reality programming.
Alongside former partner/guitarist Chris Stein and drummer Clem Burke, this monumental rock presence dazzled the house ('standing room only' felt more like 'mate with the person next to you', it was THAT packed) with mega-hits "Call Me", "Heart of Glass", "One Way or Another", "Hanging on the Telephone";  and from their new album Panic of Girls (last I read, to be released in June) the tracks "Mother", "What I Heard", and "D Day".   So whereas Whibley did not evolve to have anything relevant to say (he's in his 30s but admits the band's biggest fans are 15 year olds), Blondie still taps the 80's era keyboard punk and wronged-female anthems, and I say right on to them.
Blondie always had something to say, and if anything, age has only made them less inhibited (i.e. when Debbie recounted smoking a spliff in bed as the time when she realized "Tide is High" was going to break).  And while the dynamic between Debbie and Chris during the interview certainly maintains some of the unavoidable post-relationship awkwardness, most presumably for drummer Clem Burke – I wonder if Debbie and Chris ever perturbed him the way Sammi and Ronnie perturb the rest of us…
The Guitar Center Sessions with Sum 41 hosted by Nic Harcourt airs on DirecTV Channel 101 5/28, Blondie on 8/20 (boo for that wait).  With both of these episodes you should prepare for a fascinating hybrid of front row concert experience and uncensored conversation.  Especially as we are guided by Harcourt, whom music mogul Randy Jackson hailed as "THE friend of the music", this show is cutting edge, state-of-the-art, and a definite classic in the making.

Other Articles You Might Be Interested In
About the author
requires 2 cups of black coffee not just for diurnal lucidity but to dilute the inherent anger; substitute barely legal substances and Jersey Shore for zoloft (alternate with vintage cinema and/or Project Runway and/or contemporary irreverent sitcoms when the gorilla juiceheads start to ignite violent inclinations); death to "The Who" cover-band frontmen, religion and celebrity. sometimes writes absurdist science fiction with hints of what may be deemed offensive and humanly inconceivable erotica.
sasha-mitchell
Share this post
Magazine Spotlight

Venice is a conundrum. It's all locals and all tourists. And perhaps that's the beauty of it—you'll always fit in. Right where the tattoos meet the sea is where you'll find Larry's—under the infamous Venice sign. We are so glad it's there, acting as a bridge between upscale and near and dear dives, Larry's is our new legit...

read more