The London Eye…Charlie Sheen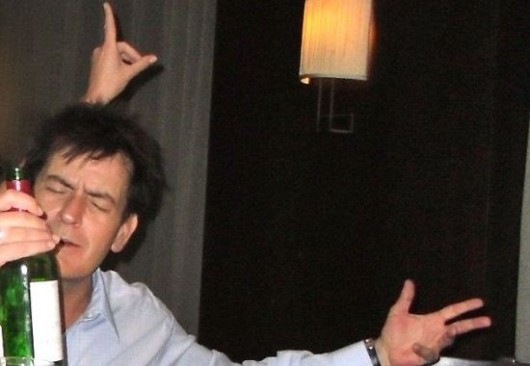 An Englishman's Views From Across the Pond
Over the past weeks, incredible news has been carried around the planet by a little blue bird. Dark powers tried suppressing the information, only to fail miserably as every shocking revelation was retweeted a million times. And throughout all this upheaval and change there was only one question on everyone's lips:
What the hell is Tiger Blood and how do I get me some?
Over here in the UK, Charlie Sheen's very public ranting sent Twitter into meltdown. History was being made in Egypt and Tunisia yet #Tigerblood kicked their ass on the trend lists. Meanwhile the British media went into a feeding frenzy.
"But Swagger," some may protest, "the Brits lost the cultural high ground when they sent us Piers Morgan, so why give a shit what they think?"
A good point well made, but spare a thought for us as we sit in your shadow. Since WWII the UK has slavishly followed the US in technology, in trends and into other countries. We just do it a little later and a lot smaller. Our space program, for example, consisted of a catapult and two guys in bubble wrap.
It's this unspoken inferiority complex that goes someway to explain Brits lapping up every juicy detail about Charlie Sheen. Why get so excited about one man's descent into madness when it's happening 5000 miles away? Well, it's a bit embarrassing, but the truth is that our celebrity meltdowns plain suck. Britain's Hello magazine is full of Z-listers so far beneath true Hollywood royalty they couldn't get a job in Los Angeles shining Jimmy Choo's. When one of these oxygen-thieves OD's on catnip, nobody here cares because they're searching YouTube for the Hoff eating floor burger.
Long gone are the days when British rock stars led the world in the art of excess. Back in the 60s it seemed that one of our finest was choking on vomit every week. Now Keith Richards is the Last of the Cokehicans. This man has enjoyed decades of substance abuse and appears to be on his third skin, yet he's still here. Other than him…nada. Contemporary celebrities are managed by PR departments who ensure that absolutely no one is offended by their work, their image or their actions. Take all of that away and you end up with the Jonas Brothers and the urge to self-harm.
As with everything in life there are exceptions to the rule; notably Michael Jackson, Mel Gibson and the Hoff. These guys behaved in a way that would finish the careers of lesser stars and now they've been joined by Charlie Sheen. He obviously believes himself to be untouchable and who can blame him? How many red-blooded males can honestly say they didn't hear the developing news and think, "Hookers? In a closet? Dude, that's awesome!"?
Basically, outrageous behavior is for superstars who are either too rich or too famous to fail and the UK just hasn't got any. So please don't begrudge us Brits a little vicarious pleasure as we adopt your most meltdown-prone celebrities. Because if you do, we'll make you keep Ricky Gervais.

Other Articles You Might Be Interested In
About the author
Jack Leonard spends his time flying Boeing 747s around the world for a British airline. Not content with being paid good money for essentially playing a massive video game, he uses his spare time to write humorous articles and abuse pointless, annoying celebrities. In the case of Justin Bieber, he believes this abuse is a public service. Jack lives in London with his wife, Lila. Fortunately for mankind, there are no offspring.
jack-leonard
Share this post
Magazine Spotlight

Venice is a conundrum. It's all locals and all tourists. And perhaps that's the beauty of it—you'll always fit in. Right where the tattoos meet the sea is where you'll find Larry's—under the infamous Venice sign. We are so glad it's there, acting as a bridge between upscale and near and dear dives, Larry's is our new legit...

read more