The London Eye…Run Forrest, Run!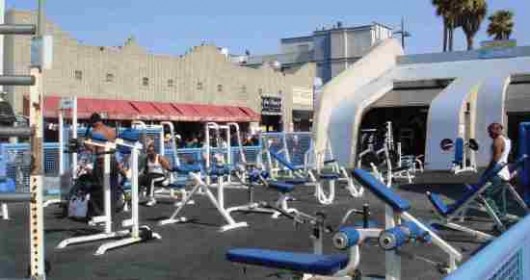 An Englishman's Views from Across the Pond
There's an ad running in the UK at the moment showcasing the virtues of California, especially those that might appeal to Brits with vacation money to burn. Between a smiling Arnie and that stupid one from the Golden Girls, the continual theme is how great the weather is. Skateboarding in sunglasses, driving convertibles, sunset beach parties all feature. And every shot involves attractive people in shorts or swimwear. The idea is to persuade us to visit your fine state by offering warm sunshine. It's partly lies, of course, as anyone who has been outrun by freezing sea fog will agree. Even so, compared to the British climate, it's still like offering Cee Lo Green a donut.
So why do people prefer to run on a treadmill in the Redondo Gold's Gym, for example, when there's a perfectly good beach next door? True, there are those who jog outside like roaches, but just as many seem to be watching them through a window as they pound a rubber belt, breathing in other folks' stink and paying for the privilege! In London there is a good excuse for running in a gym. Even if the teenage knife-fiends and unlicensed taxi cabs don't get you, hypothermia will. But Hermosa Beach? In broad daylight?
If there is street crime going on it's been happening behind my back – as it often does, I guess. The only real danger appears to be those girls on rollerblades who think it's a freaking Always ad. They may think they're pretty cool being pulled along by man's best friend but it's only going to end in tears. Unless it's a trained Husky, the girl becomes an unguided missile the second it wants to sniff another dog's ass.
One group that should be kept indoors is body builders. After 6 beers and chicken wings, the last thing your stomach needs to see is 20 semi-naked guys covered in baby oil. Where I'm from, these freaks of nature are shunned like lepers and forced to train in their own special gyms with dumbbells like monster truck tires. It's not all bad though – they get complementary steroids with the towels, and once in a while they're allowed to visit the tanning salon.
So get out there, if only because you can. The sun is your friend, just enjoy the warmth of it on your face. In northeast England, a combination of too much video gaming and overprotective moms has led to kids being diagnosed with rickets. That's right, rickets! A disease caused by a lack of vitamin D that hasn't been seen for well over a century. All we need now are massive comedy mustaches and a repressed attitude to sex and we're straight back into the Victorian era.
Well, perhaps just the mustaches!

Other Articles You Might Be Interested In
About the author
Jack Leonard spends his time flying Boeing 747s around the world for a British airline. Not content with being paid good money for essentially playing a massive video game, he uses his spare time to write humorous articles and abuse pointless, annoying celebrities. In the case of Justin Bieber, he believes this abuse is a public service. Jack lives in London with his wife, Lila. Fortunately for mankind, there are no offspring.
jack-leonard
Share this post
Magazine Spotlight

Venice is a conundrum. It's all locals and all tourists. And perhaps that's the beauty of it—you'll always fit in. Right where the tattoos meet the sea is where you'll find Larry's—under the infamous Venice sign. We are so glad it's there, acting as a bridge between upscale and near and dear dives, Larry's is our new legit...

read more