The Swagger Guide to St. Patty's Day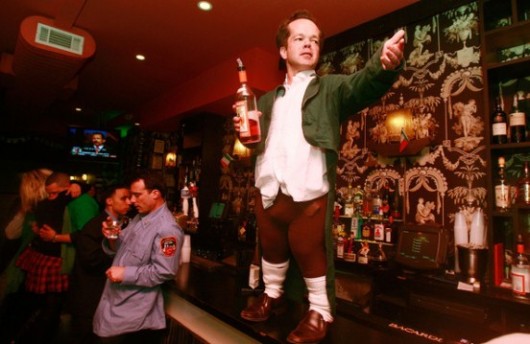 St. Patrick's Day is a remarkable holiday. While everyone knows that it is somehow associated with the Irish, you don't have to know anything about Irish culture to take full advantage of the festivities. You just need to wear something green and find a place that will pour you the perfect pint of Guinness and keep the shots of Jameson coming.
Unfortunately, St. Patrick's Day falls on a Thursday this year. To truly celebrate, you are going to have to take the day off. Maybe the next day too, just so you have time to recover or keep drinking. Your favorite neighborhood Irish pub will probably have the requisite whiskey and Guinness to guarantee you a good time, but if you want to celebrate St. Patrick's Day in style, we've provided a few suggestions.
Casey's Irish Pub and Grille
613 S Grand Ave
Los Angeles, CA 90017
(213) 629-2353
Billed as Los Angeles's largest St. Patrick's Day celebration, Casey's Irish Pub isn't holding anything back. In addition to opening at 6 am, Casey's is closing down the street in front of their restaurant. After grabbing a few morning pints of green beer, you can head to Perishing Square at noon where the bar is hosting a concert by the Young Dubliners in partnership with the City of LA.
After the concert, make your way back inside Casey's for more green beer, pints of Guinness, Jameson shots, and picklebacks. If you've never had the pleasure of indulging in a pickleback, it's simply a shot of smooth Jameson whiskey followed by a bitter chaser of pickle juice. And I would be remiss if I didn't mention that Jameson girls will be on hand to help you get the most out of your celebration.
In addition to the customary DJs, there will be live music from local bands Petty Cash and Hollywood U2. Can't get away from the office? Casey's will be broadcasting the day's festivities on 98.7 and 100.3, so you don't have to wonder what kind of fun you're missing.
Tam O'Shanter
2980 Los Feliz Boulevard
Los Angeles, California 90039
(323) 664-0228
If you are looking for a more authentic feel to your St. Patrick's Day, Atwater Village's Tom O'Shanter is the pub for you. With no cover and live Irish and Celtic entertainment, you can enjoy your Guinness and whiskey in the same dining room that hosted John Wayne and Walt Disney as regulars. For lunch, treat yourself to some corned beef and cabbage or hand-carved sandwiches. In the evening, dig into bangers and mash while the Emerald Society of L.A. Pipe Band and local Celtic band the Plough Boys get the party going, kilts and all.
Can't make it on Thursday or just want to keep the party going through the weekend? Tam O'Shanter promises to keep their tent up on Saturday as well, with live music from 2 pm -10 pm. If you are lucky, they'll still have some green beer for you as well.
St. Patty's Fest
1201 N. Vine Street
Hollywood, CA
213-915-8003
Want to start celebrating early and help out a good cause? On March 12, St. Patty's Fest will be held at Hollywood's Taglyan Cultural Center. Your $100 ticket will benefit the Hollywood Arts Council and get you four hours of all-inclusive beer, wine, spirits, and food.  With a Pink's hot dog in one hand and a hefeweizen in the other, you'll be able to properly enjoy Irish dancing, live music, and even live band karaoke. Rumor has it that the event attracts mostly single, young professionals. Combine that with the fact that drinks and food are already covered, giving to a charity and meeting philanthropic women has never been easier. Tickets are expected to sell out before the event, so buy them early.
The Super Serious Show
Smashbox Studios
8549 Higuera Street
Culver City, CA 90232
Bag pipes, bangers and mash, and Jameson girls not your scene? Head over to Culver City for a special St. Patrick's Day edition of the monthly comedy event The Super Serious Show. In addition to a solid line-up of professional comedians, they'll be featuring music by DJ R-Rated and food from the Grindhaus LA food truck. Oh, did I mention they will be serving FREE BEER & WINE? Pair the free Eagle Rock Brewery beer with cheese and salumi from Cube Café and sweets from J-Squared Bakery.
Line-up:
Jay Larson (Comedy Central Presents, Late Late Show With Craig Ferguson)
Jen Kirkman (Chelsea Lately, Late Late Show With Craig Ferguson)
Eddie Pepitone (The Sarah Silverman Program, The Flight of the Conchords)
Lost Moon Radio (www.lostmoonradio.com)
Videos from Scott Gairdner (Funny or Die, Attack of The show)
Presale tickets are $10, $15 at the door.

Other Articles You Might Be Interested In
About the author
Nick is a Los Angeles native on a personal mission to find the best Los Angeles has to offer. Know a guy who brews the best IPA in his garage? Have an inside scoop on an underground supper club? Discovered where LA City Councilmen hold the Fight Club they won't talk about? Nick's going to want to know about it.
nick-wilson
Share this post
Magazine Spotlight

Venice is a conundrum. It's all locals and all tourists. And perhaps that's the beauty of it—you'll always fit in. Right where the tattoos meet the sea is where you'll find Larry's—under the infamous Venice sign. We are so glad it's there, acting as a bridge between upscale and near and dear dives, Larry's is our new legit...

read more