The Töken Experience, The Future DJ's Best Friend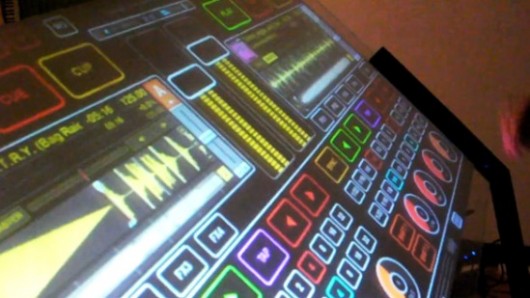 Once in awhile we come across a gadget that is just extremely out of this world cool, but at the same time extremely out of this world unavailable.  Here we introduce the Token Experience, a musical DJ system that takes one part Daft Punk, two parts TRON, and an additional part Minority Report, and packages it into an ultra-gorgeous hardware and user interface that would turn Bruce Wayne's bat-cave into the ultimate underground rave venue.
Both "decks," all mixer & volume controls, and a number of sound effect buttons can be seen on the clear glass interface.  There are simple loop buttons in order to repeat phrases and make mixing smoother, and you can even browse through your song libraries with a simple text menu.  It would also appear that you could have up to 8 tracks queued up at any given moment.  All of this is projected and displayed on a smooth glass surface that allows not just the DJ to have a clear view of what's going on, but gives the audience a peek at what's going on too.
Devised by a group of enthusiasts in Spain, the Token controller makes vinyl, CD, and laptop + controller setups just look silly and old.  The makers call the touch sensitive glass plate "a holographic screen with multitouch technology."  I don't really care what phrases or terms they use, I absolutely want to multitouch one of these someday.
Unfortunately the device is at the moment still one of a kind, but will be making its rounds at European music festivals to showcase and showoff the goods.  The last appearance was at Amsterdam Dance Event, held earlier this past October.
Just check out this video demonstrating the device!
töken experience from yöyen munchausen on Vimeo.

Other Articles You Might Be Interested In
About the author
A self proclaimed renaissance man, Tim Wut wears many hats. However, sometimes boredom or ADD will kick in and the headwear will change or come off entirely. In his free time you'll find him writing, stuffing his face at hole in the wall restaurants, or attending the next face-melting concert. Having gone from a steady corporate job to scouring the internet for the next project, Tim Wut truly believes that "If you don't get lost, there's a chance you may never be found."
tim-wut
Share this post
Magazine Spotlight

Venice is a conundrum. It's all locals and all tourists. And perhaps that's the beauty of it—you'll always fit in. Right where the tattoos meet the sea is where you'll find Larry's—under the infamous Venice sign. We are so glad it's there, acting as a bridge between upscale and near and dear dives, Larry's is our new legit...

read more