The Top 5 Indie Theaters to Find Hipster Romance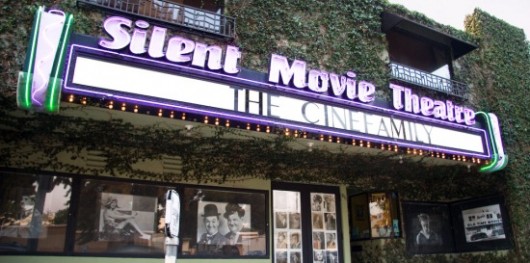 They may dress strangely, have a funky scent and lean towards the unshaven look, but there's something alluring about the hipsters of the world. Typically months ahead of the newest trends, they are blessed with an unnatural attraction to underdog art forms; fearlessly following no-name bands and not-yet-used conversational lingo deep into dingy, underground bars with abnormally high Yelp ratings.
Lucky for us non-hipsters, when they emerge back into sanitary society allowing us the chance of romantic interaction, the patterns of their movement often takes them to a place where not only might we find a common interest worth discussing, but a culturally entertaining evening that caters to the film-business goon in all of us.
Naturally, I'm talking about the Independent Movie Theater.
Indie theaters have been taking big hits and closing up shop in recent years, but there are at least 5 sterling locations in the LA area that each offer a unique experience to find hipster romance…
The Cinefamily @ The Silent Movie Theater is probably the biggest of the independents. Though silent films only get one routine day of the schedule (Wednesdays, sometimes accompanied by live orchestra), this theater packs the house screening new and classic flicks. The theater recently hosted a sold out premier for the Oscar nominated Greek film Dogtooth, proving that even though the Academy is mainstream, hipsters will make an exception if the film is made outside the US.  Bonus love points go to the comfy leather couches available to those who snag them early.  Spread out annoyingly until a pretty little hipster comes looking for a soft place to sit. (611 North Fairfax Avenue)
The New Beverly Cinema is best known for its new owner, Quentin Tarantino. A longtime fan of the theater, he couldn't stand to watch it sell to a careless new owner.  QT bought the place last year and has enjoyed the hispter turnout resulting from rumors that he might stop by on random evenings.  Sometimes you'll catch a script-in-hand making its way towards the concession stand, but more than likely you'll just find a bunch of hipster theatergoers eager to absorb the influences on Tarantino's career in the hope of following the same path to success. (7165 Beverly Boulevard)
American Cinematheque: Egyptian Theater is dead smack in the middle of Hollywood, and comes complete with the annoyance of its location. Of course, being close to such commercial atrocities as Hard Rock Café and The Gap, local hipsters won't find themselves within a 5 block radius. Thankfully, tourist hipsters nicely fill the void. Come prepared with your best story about roasting a pig with the guys from Vampire Weekend. (6712 Hollywood Boulevard)
Los Feliz 3 is another theater that gets special attention for its location, though for a different reason entirely. Welcome to hipster Ground Zero, where exiting your car without a flannel anything is grounds for an unintelligible tongue-lashing. The theater itself is much more mainstream, showing films you can definitely catch at a more comfortable locale, but again – this is about location. The bevy of hipster options will be so overwhelming you'll walk in single, and walk out with sideburns. (1822 North Vermont Avenue)
Nuart Theatre shows some hipster favorites but lands the fifth spot for one simple reason. Every Saturday night this place goes balls-to-the-wall with a midnight showing of The Rocky Horror Picture Show. Expect a wild and varied crowd. Drink away, experiment however you will, and take solace in knowing that come Monday all your hipster fantasies will have been fulfilled, and you can fearlessly go on with your clean, well-manicured, decently-employed life. (11272 Santa Monica Boulevard)

Other Articles You Might Be Interested In
About the author
Chris is a native East Coaster transplanted to the City of Angels. He likes to listen to the crazy things crazy people say while maintaining a straight face; a skill learned in New York, and perfected in California. He's also an actor. Go Yankees.
chris-ferro
Share this post
Magazine Spotlight

Venice is a conundrum. It's all locals and all tourists. And perhaps that's the beauty of it—you'll always fit in. Right where the tattoos meet the sea is where you'll find Larry's—under the infamous Venice sign. We are so glad it's there, acting as a bridge between upscale and near and dear dives, Larry's is our new legit...

read more