Zulu Lounge LA on June 17th @ Boardner's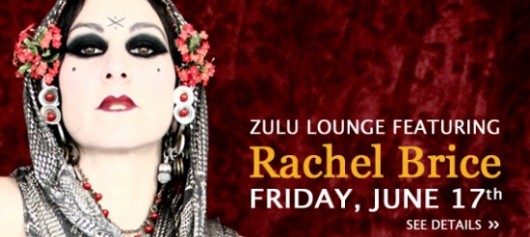 If you're among those adventurous souls who are always on the watch for something new, different and exciting, you might consider checking out Zulu Lounge LA, a unique quarterly event that brings together an eclectic group of performers, including DJs, musicians, circus acts, belly dancers and other talented individuals. The charity fundraiser is produced by renowned tattoo artist Zulu of namesake Zulu Tattoo in Los Angeles and Medianoche Dance Company, a Modern Fusion Belly Dance troupe. The next Zulu Lounge LA well be held on Friday, June 17 at Boardner's in Hollywood and will feature a diverse cross-section of artists and performers.
Celebrated belly dancer Rachel Brice will be a featured performer at the event. The San Francisco-based dancer is a contemporary innovator in Tribal Fusion Style Belly Dance and is the founder and artistic director of The Indigo Belly Dance Company. Brice is also a frequent performer with the Bellydance Superstars and has performed and toured nationally and internationally since 1990. And as a member of the Bellydance Superstars, she 's made numerous guest appearances on Bellydance Superstars DVDS, as well as a slew of television and radio appearances worldwide.  While bellydancing may not be your thing, the way she moves will leave you in awe.
The upcoming Zulu Lounge LA will also feature acclaimed Gypsy band Fishtank Ensemble and DJ Amar from San Francisco. Previous performers have included Medianoche Dance Co. members, DJ Psychotropic, esteemed cellist Tina Guo, performance art group The Wandering Marionettes, Bhangra dance troupe Sher Foundation and legendary DJ/producer Cheb I Sabbah.  Other noted Tribal Fusion Belly Dancers have included Heather Shoopman, Michaella Manning, Monica Dangerpants, Sherri Wheatley and Calamity Sam. In addition, the event will have fire dancers and hoopers.
Zulu started holding Zulu Lounge at his Los Angeles studio, Zulu Tattoo, about 15 years ago. The fundraising events began as big parties with DJs, food, drinks and raffles for donations. Zulu's wife, Khani Zulu, co-founded Medianoche Dance Co. with fellow dancer Gigi Corkett. The dance company produces the Zulu Lounge events with Zulu Tattoo.
"We believe in giving back to the community, so we thought it was the perfect way to get our clients together for a social gathering to support a good cause," said Khani Zulu, who is also co-owner and director of Zulu Tattoo. "In the beginning, we did fundraising mostly for AIDS organizations, but we now support many different kinds of charities."
Two years ago, she and Zulu decided to expand and improve Zulu Lounge, as it had outgrown the space available at the studio. So they made the decision to rent a night at Boardner's, a well-known Hollywood club, and add live entertainment.
"I used to be a professional modern dancer and had started doing Tribal Fusion Belly Dance," Khani said. "The belly dance community is great, and we thought it would be a perfect match and a great opportunity for performance."
Khani added that in addition to raising money and awareness for organizations that help people in need, another key goal of Zulu Lounge is to bring people together from many walks of life to share the experience and have a good time. She said that an additional goal of Zulu Lounge is "to bring awareness to some of the amazing talent in and around Los Angeles."
She said their first Zulu Lounge in its current inception was in January of 2010.
"We have had four to date, with our fifth show coming up on June 17," Khani said. "They just keep getting bigger and better!"
Check out the Medianoche Dance Co. website for more details on Zulu Lounge LA.

Other Articles You Might Be Interested In
About the author
Ken is an LA-based freelance journalist and musician (bass guitar). He enjoys playing, listening to and writing about music, and maintains a blog at funkatropolis.blogspot.com. He's also a big film freak, anything from dramas to Disney, and loves that there's always something interesting going on in LA.
ken-davis
Share this post
Magazine Spotlight

Venice is a conundrum. It's all locals and all tourists. And perhaps that's the beauty of it—you'll always fit in. Right where the tattoos meet the sea is where you'll find Larry's—under the infamous Venice sign. We are so glad it's there, acting as a bridge between upscale and near and dear dives, Larry's is our new legit...

read more