KCRW Masquerade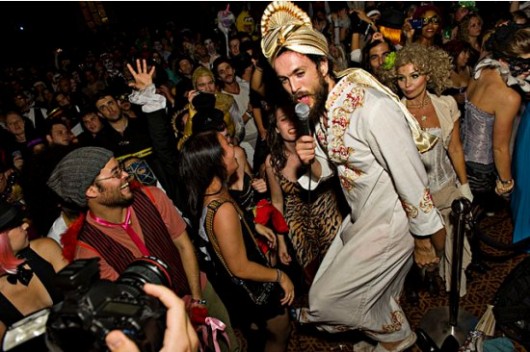 Saturday October 29th @ 9pm
The Legendary Park Plaza, Rampart Village
In our minds, KCRW can do no wrong.  They supply our braked in traffic routines with the perfect noise to our ears. The public station believes in music and art as virtues, and this is their 3rd Halloween Masquerade celebrating with a massive costume ball and dance party at The Legendary Park Plaza. Last year DJ Shadow, Little Dragon, and Edward Sharpe and the Magnetic Zeros played, danced and DJed for partygoers.
This year, plan on jamming from room to room in the colossal multi-storied venue to Moby, Dengue Fever, and your favorite KCRW DJs. The good news is that no costume will disappoint, the bad news is that you better plan on yours not disappointing. The event won't seem too crowded because of the size of the venue and lines won't be a problem. The only lines you may encounter will be for the food trucks outside.
Individual tickets are sold out, but VIP Cabanas are still available.

Other Articles You Might Be Interested In
Share this post
Magazine Spotlight

Venice is a conundrum. It's all locals and all tourists. And perhaps that's the beauty of it—you'll always fit in. Right where the tattoos meet the sea is where you'll find Larry's—under the infamous Venice sign. We are so glad it's there, acting as a bridge between upscale and near and dear dives, Larry's is our new legit...

read more