Septemberfest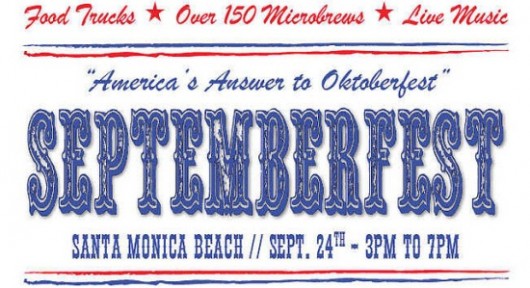 Saturday September 24th @ 3pm
Santa Monica Beach
Beer, beach, BBQ and bikinis.  That pretty much sums it up, Septemberfest is LA's red-blooded American response to Oktoberfest. DrinkEatPlay puts on legit, never dry, beer-fueled events that live up to its name. Instead of the usual studio lot party, DEP is challenging summer to stay a little longer by bringing a selection of over 200 beers to the Santa Monica Pier.
Don't feel bad about day drinking—all this thirst quenching supports a non-profit animal rescue program.  There will also be musical performances by Black Crystal Wolf Kids and Petty Cash.  And, once again, there is no LA event complete without, yes, you guessed it: blondes…I mean food trucks. Lots of food trucks.
General Admission is $40 and the VIP ticket, which allows early access is $50. Food is sold separately.

Other Articles You Might Be Interested In
Share this post
Magazine Spotlight

Venice is a conundrum. It's all locals and all tourists. And perhaps that's the beauty of it—you'll always fit in. Right where the tattoos meet the sea is where you'll find Larry's—under the infamous Venice sign. We are so glad it's there, acting as a bridge between upscale and near and dear dives, Larry's is our new legit...

read more