Trespass/Parade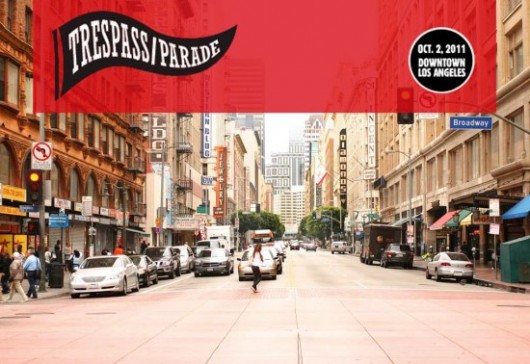 October 2 & 3, Multiple Times
Broadway Theater District & Union Station, Downtown
If a lifestyle of artwork or activism falls somewhere along your spectrum of personal interests, there's a place for you among the masses gathering in the Broadway Theater District of Downtown LA this weekend for Trespass/Parade. As part of the Getty-sponsored, region-wide initiative, Pacific Standard Time: Art in L.A. 1945-1980, Trespass/Parade is one of the official opening weekend celebrations.
A massive collaboration of socially conscious artists, this is not your grandmother's rolling rally – an amalgam of musicians, performers, dancers, and artists of all walks, all coming together to heighten awareness in surrounding communities. Highlighting the careers of storied artists Arto Lindsay and Rirkrit Tiravanija, Trespass/Parade will also feature a live performance from Killsonic and a final reception at The Museum of Contemporary Art.
Tickets to the Monday night party at Union Station are available for a minimum $200 donation.

Other Articles You Might Be Interested In
Share this post
Magazine Spotlight

Venice is a conundrum. It's all locals and all tourists. And perhaps that's the beauty of it—you'll always fit in. Right where the tattoos meet the sea is where you'll find Larry's—under the infamous Venice sign. We are so glad it's there, acting as a bridge between upscale and near and dear dives, Larry's is our new legit...

read more