Beverly Hills Hotel – Westside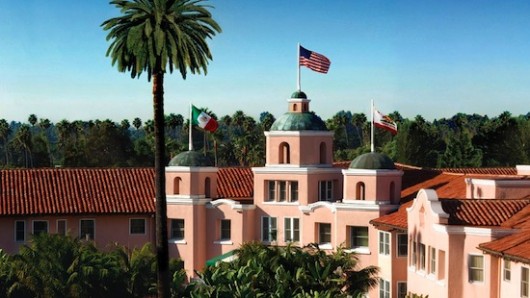 Modest in size but certainly not shy (i.e. the pink exterior and plush interior), the Beverly Hills Hotel is, just, famous.  There is a reason people take more pictures of the hotel's iconic sign than of themselves in the bathroom mirror.  With Hollywood and the rest of Los Angeles growing up around it, the hotel has retained a mature and classic mantra. Having always been dedicated to the sport that is the industry, the hotel grounds cater to a quieter scene with more expensive promises.
A select number of celebrity worn-bungalows are available amongst the palmed pink and green facade.  Inside, Bar Nineteen 12 offers up an elegant indoor bar and a terrace overlooking the hotel's grounds. For a glimpse of historic luxury, head over to The Polo Lounge, which doubles as a  classy breakfast spot and a meeting place for dealmakers to sip dirty martinis.
The Beverly Hills Hotel
9641 Sunset Boulevard
Beverly Hills, CA 90210
310.276.2251

Other Articles You Might Be Interested In
Share this post
Magazine Spotlight

Venice is a conundrum. It's all locals and all tourists. And perhaps that's the beauty of it—you'll always fit in. Right where the tattoos meet the sea is where you'll find Larry's—under the infamous Venice sign. We are so glad it's there, acting as a bridge between upscale and near and dear dives, Larry's is our new legit...

read more