District 13 – Hollywood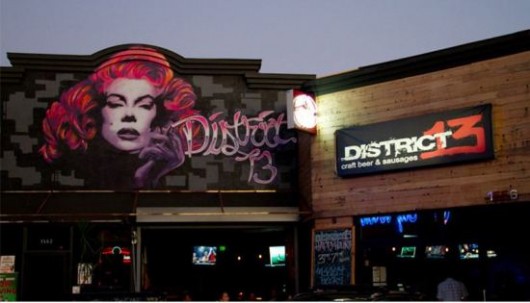 Hidden in a Cahuenga strip mall in the middle of Hollywood, District 13 pairs brews with sausage, everything from brat to beef and lamb to elk. Whether you're on your way to (or from…open til 2am) the Hollywood Bowl or just need a pork fix, this graffiti-walled little joint might be everything you're looking for.  The restaurant opened as a gastropub and offers close to 20 microbrews on draft and approximately the same number in bottles.
The pub offers alternative options like flatbread pizzas, farmer's market salads and fish and chips.  Avid beer fans should definitely check out the primarily local draft picks.  Consider this the meatpacking district of LA.
District 13
1556 North Cahuenga Boulevard
Los Angeles, CA 90028
323.957.1313

Other Articles You Might Be Interested In
Share this post
Magazine Spotlight

Venice is a conundrum. It's all locals and all tourists. And perhaps that's the beauty of it—you'll always fit in. Right where the tattoos meet the sea is where you'll find Larry's—under the infamous Venice sign. We are so glad it's there, acting as a bridge between upscale and near and dear dives, Larry's is our new legit...

read more