Lazy Ox Canteen – Downtown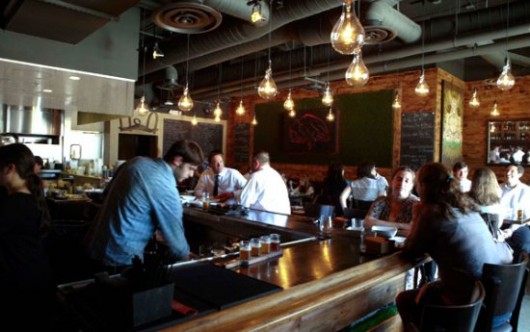 Don't let the Downtown Little Tokyo location, chalkboards, and Edison bulbs fool you. The Lazy Ox Canteen isn't just another trendy restaurant. It's an animal eaters dream! From the mind of chef Josef Centeno, comes a menu as varied as it is flavorful with inspiration ranging from Japanese Izakaya to the Mediterranean to Latin America. Best enjoyed shared, the menu and the atmosphere lend themselves to getting a group of your best beer drinking buds and smashing a couple of tables together.
You can't go wrong with the standby Lazy Ox Burger, but if you're feeling adventurous, start exploring  both the food and extensive beer & wine menus. The yellow tail crudo and pig ear chicharon are at the top of our list. Save room for dessert and try the butterscotch pudding or the chocolate pate, you won't be disappointed.
Lazy Ox Canteen
241 South San Pedro Street
Los Angeles, CA 90013
213.626.5299

Other Articles You Might Be Interested In
Share this post
Magazine Spotlight

Venice is a conundrum. It's all locals and all tourists. And perhaps that's the beauty of it—you'll always fit in. Right where the tattoos meet the sea is where you'll find Larry's—under the infamous Venice sign. We are so glad it's there, acting as a bridge between upscale and near and dear dives, Larry's is our new legit...

read more