Pizzeria Mozza – Hollywood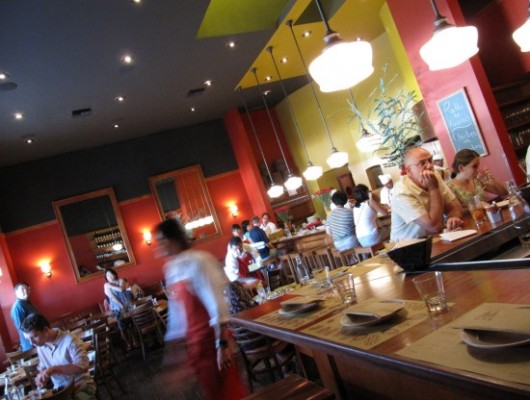 At Pizzeria Mozza you're in the hands of the experienced and the ingredient-neurotic, though it's not until neuroticism presents itself on the art of cheese selection and pizza crust that it is gratefully tolerated.
Pizza: you can't go wrong (well, late night anyway), and you can go so, so wrong.  Just like grilled cheese.  The pies at Mozza are an absolute.  If you wish, you can conveniently bypass crowds and the mile menu and order one to go next door at Mozza2Go.  You won't see a plump Italian Nonna cooking in the back upon arrival; the dishes here are purposefully tailored to express a certain region or idea rather than to recreate the traditional Italian family-style experience.  That being said, the pizza is superb, undoubtedly due to the power trio of Mario Batali, Nancy Silverton and Joe Bastianich.  Recipes are built from the ground up, literally, with attention to details such as the type of dirt mushrooms are grown in for the Pizza Ai Funghi Misti.
Pizzeria Mozza
641 North Highland Avenue
Los Angeles, CA 90036
323.297.0101

Other Articles You Might Be Interested In
Share this post
Magazine Spotlight

Venice is a conundrum. It's all locals and all tourists. And perhaps that's the beauty of it—you'll always fit in. Right where the tattoos meet the sea is where you'll find Larry's—under the infamous Venice sign. We are so glad it's there, acting as a bridge between upscale and near and dear dives, Larry's is our new legit...

read more