Public School 612 – Downtown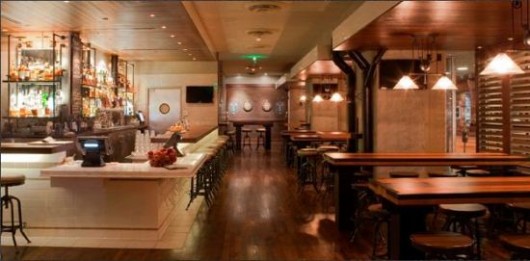 Inspired by middle school cafeterias (underage drinkers?), Public School 612 is focused on "An Education in the Art of Food and Beer."  Grab your pencils and pints, class is in session.  So lately we've been hearing the word "gastropub" get thrown around a lot, but this place represents by offering craft beer from all round the world, eclectic small plates and nostalgic sodas.
Owned by the creators of Daily Grill, the new addition is actually adjacent to the Daily Grill Downtown.  Happy hour (or recess) from 4-7pm includes a select menu of $4 beers and afternoon snack options ranging from Adobe Short Rib Tacos to Thai Noodle Spring Rolls. Hallie Beaune, one of the famed Beer Chicks, helped assemble the suds selection. Chill at the communal high tables, play some darts and have a few drinks to forget about your (home)work.
Public School 612
612 South Flower Street
Los Angeles, California 90017
213.623.1172

Other Articles You Might Be Interested In
Share this post
Magazine Spotlight

Venice is a conundrum. It's all locals and all tourists. And perhaps that's the beauty of it—you'll always fit in. Right where the tattoos meet the sea is where you'll find Larry's—under the infamous Venice sign. We are so glad it's there, acting as a bridge between upscale and near and dear dives, Larry's is our new legit...

read more